Posts for: January, 2017
By CHATTANOOGA PERIODONTICS & DENTAL IMPLANTS
January 17, 2017
Gum disease affects half of American adults, according to the Centers for Disease Control and Prevention. Luckily, there are a few things
you can do to decrease your risk of developing the disease. Dr. Charles Felts and Dr. Elizabeth Felts Randall, your Chattanooga, TN, periodontists at Chattanooga Periodontics & Dental Implants, share information on the types of gum disease and explain how you can avoid becoming another statistic.
Gum disease types
Gingivitis, the mildest form of gum disease, is often ignored because it doesn't cause dramatic symptoms. If you have gingivitis, your teeth may bleed when you brush and floss, and you may notice that your gums are red and swollen. Unfortunately, if you don't take steps to reverse the disease, it can turn into periodontitis, the more severe form of gum disease.
Periodontitis can cause receding gums, bad breath, tooth sensitivity, an unpleasant taste in your mouth, loose teeth and a change in the way partial dentures fit. You may also notice that your gums have pulled away from your teeth, creating pockets that harbor bacteria. Bone and tooth loss can occur if you have periodontitis.
How can I prevent gum disease?
Brush and Floss: Good oral hygiene is the best way to avoid gum disease. Brushing and flossing, daily, removes bacteria-laden plaque. If plaque remains on your teeth long enough, it turns into a hard deposit called tartar. Tartar buildup causes receding gums and pockets.
Don't Skip Dental Visits: Because tartar can only be removed with special dental instruments found at your Chattanooga, TN, dentist's office, it's important to not skip your twice a year cleanings. If tartar has begun to cause gum problems, you may benefit from a deep cleaning that removes tartar from below the gum line.
Replace Poorly Fitting Crowns: Crowns that don't fit well make it difficult to clean around your teeth, which can lead to tartar buildup.
Quit Smoking: Smokers have a higher risk of developing gum disease. Quitting smoking is a simple way to decrease your risk.
If you do develop gum disease, periodontists offer a variety of treatments that can help control the infection. Call your Chattanooga, TN, periodontists at Chattanooga Periodontics & Dental Implants, at (423) 756-2450 to schedule your appointment.
By Chattanooga Periodontics & Dental Implants
January 06, 2017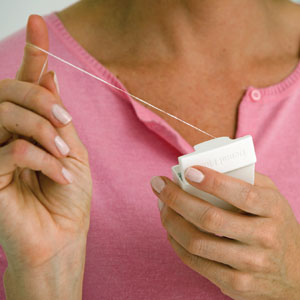 With a 95%-plus success rate, dental implants are an effective and durable replacement for lost teeth. But we can't place them and forget them: if you don't clean and maintain them they could fail as a result of disease.
The inorganic materials that make up the implant aren't in danger of infection. But the living gums and bone that surround and support the implant are at risk. In fact, there's a particular periodontal (gum) disease involving implants called peri-implantitis ("peri" – around; implant "itis" – inflammation).
Peri-implantitis begins when the gum tissues around the implant become infected and inflamed. This happens most commonly because plaque, a thin film of bacteria and food particles, builds up on implant surfaces. Another less frequent cause is a buildup of excess cement used to bond the crown to the implant. We need to remove the built-up plaque or the excess cement during your dental visit.
If the infection isn't treated or you don't keep up effective, daily hygiene practices, the infection can grow and extend deeper into the tissues and finally the bone. This can destroy the all-important integration of bone and metal titanium post that has created the implant's strong hold. When that support becomes compromised the implant can lose its attachment and, if untreated, eventually fail.
It's important to keep an eye out for any indications you may have a gum infection around an implant. Look for redness, swelling, bleeding or pus formation. If the implant feels loose, this may mean that extensive bone loss has already occurred. If you encounter any of these signs, see us immediately for an examination.
The best approach, though, is to prevent peri-implantitis in the first place. So, brush and floss daily around your implant as you do your natural teeth. And be sure you keep up regular dental cleanings and checkups.
With proper care and maintenance you can avoid problems with disease that could affect your implant. Healthy gums and bone will ensure your implant will last for many decades to come.
If you would like more information on preventing disease involving your dental implants, please contact us or schedule an appointment for a consultation.