Posts for: October, 2017
By Chattanooga Periodontics & Dental Implants
October 27, 2017
Every good oral hygiene regimen has two parts — the part you do (brushing and flossing) and the part we do (professional cleanings and checkups).
But what's involved with "professional cleanings" — and why do we perform it? The "why" is pretty straightforward — we're removing plaque and calculus. Plaque is a thin film of bacteria and food remnant that adheres to tooth surfaces and is the main culprit in dental disease. Calculus (tartar) is calcified plaque that occurs over time as the minerals in saliva are deposited in bacterial plaque. It isn't possible for you to remove calculus regardless of your efforts or hygiene efficiency. Ample research has shown that calculus forms even in germ-free animals during research studies, so regular cleanings are a must to keep you healthy.
The "what" depends on your mouth's state of health and your particular needs. The following are some techniques we may use to clean your teeth and help you achieve and maintain healthy teeth and gums.
Scaling. This is a general term for techniques to manually remove plaque and calculus from tooth surfaces. Scaling typically encompasses two approaches: instruments specially designed to remove plaque and calculus by hand; or ultrasonic equipment that uses vibration to loosen and remove plaque and calculus, followed by flushing with water and/or medicaments. Scaling can be used for coronal maintenance (the visible surfaces above the gum line) or periodontal (below the gum line).
Root planing. Similar to scaling, this is a more in-depth technique for patients with periodontal disease to remove plaque and calculus far below the gum line. It literally means to "plane" away built up layers of plaque and calculus from the root surfaces. This technique may employ hand instruments, or an ultrasonic application and flushing followed by hand instruments to remove any remaining plaque and calculus.
Polishing. This is an additional procedure performed on the teeth of patients who exhibit good oral health, and what you most associate with that "squeaky clean" feeling afterward. It's often performed after scaling to help smooth the surface of the teeth, using a rubber polishing cup that holds a polishing paste and is applied with a motorized device. Polishing, though, isn't merely a cosmetic technique, but also a preventative measure to remove plaque and staining from teeth — a part of an overall approach known as "prophylaxis," originating from the Greek "to guard or prevent beforehand."
If you would like more information on teeth cleaning and plaque removal, please contact us or schedule an appointment for a consultation. You can also learn more about this topic by reading the Dear Doctor magazine article "Teeth Polishing."
By Chattanooga Periodontics & Dental Implants
October 12, 2017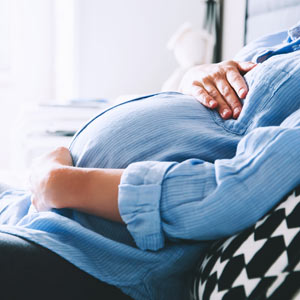 Learning you're pregnant can be a joyous moment. But it also means life is about to change as you focus on protecting you and your child from anything that endangers your health.
Because of these new concerns you might even hesitate about receiving dental care, especially involving anesthesia. But several medical organizations representing doctors, OB-GYN physicians and dentists wholeheartedly recommend continuing regular dental visits during pregnancy.
In fact, you should continue them because you're pregnant: physical and hormonal changes during pregnancy could increase your risk of dental disease.
For, example, your consumption of carbohydrates (like sugar) could increase, which in turn increases your risk of tooth decay. You'll also need to be more concerned about dental plaque, a thin bacterial film on your teeth that can cause disease. Hormonal changes during pregnancy may make you more sensitive to plaque, and thus more susceptible to disease — especially periodontal (gum) disease.
In fact, a specific form of gum disease called pregnancy gingivitis affects around 40% of expectant women at some point in their pregnancy. And if you already have gum disease, pregnancy could worsen it. Left untreated the disease could develop into more severe periodontitis, which may significantly damage your teeth's support structures far below the gum line, leading to bone loss, which could result in the eventual loss of your teeth. Daily brushing and flossing, regular cleanings and checkups and, if your dentist prescribes it, antibacterial mouth rinses can help you stay ahead of it.
But what about other procedures while you're pregnant? It may be best to wait on elective treatments for cosmetic purposes until after the baby is born. But some situations like deep tooth decay that could require a root canal treatment may become too serious to postpone.
Fortunately, several studies have shown it's safe for pregnant women to undergo many dental procedures including tooth fillings or extractions. And receiving local anesthesia doesn't appear to pose a danger either.
The important thing is to remain diligent with your own personal hygiene — brushing and flossing — and making other healthy choices like eating a nutritious diet. And be sure to let your dentist know about your pregnancy to help guide your dental treatment over the next few months.
If you would like more information on taking care of your teeth and gums during pregnancy, please contact us or schedule an appointment for a consultation.